I get asked more and more every day about camera hops –what's available and what's coming.
It seems as though we have run around the circle in audio from double system Nagra to recording direct to camera and now back to double system on hard disk recorders (and with a lot more channels).  It still remains that it's nice to send a guide or scratch track, to camera while recording iso's and your mix to your recorder.
The Breakaway snake is certainly the most affordable solution to send your mix to camera and has long been the standard.  In the new world of reality TV–strange locations, and intricate shots–the pitfalls of the cable are many:  Your distance from the camera is limited to the cable length;  constantly worrying about the cable getting stuck on something or being run over and  potentially harming it; and coiling/uncoiling it can be a waste of time in rush situations.
Why go to a wireless camera hop? To have freedom from the camera and offer the camera operator his freedom to roam is a big plus.  You're not worried about damage to a cable and efficiency is greatly increased.   With this in mind, let's look at some of the solutions available and hopefully offer you some guidance as to which one will work best for you.
Although there are other solutions, including Audio Technica's ATW-1821 kit, 2 x Sennheiser G2/3 kits, 2x Lectrosonics 411 kits, Sony's slot receiver for example, I'm opting to stick to the industry standards and what have been created specifically for this particular purpose.
To begin, you have 2 channel systems in the Lectrosonics SRa and Zaxcom's RX900S receivers.
Lectrosonics SRA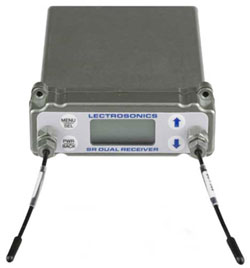 The Lectrosonics unit is based on their UCR401 receiver.  They uncovered the technology to put two 401 Receivers into one slim casing.  The casing they designed is perfect for cameras that will accept a Slot Receiver (SR).   These cameras can power the unit by way of a multi-pin on the camera that sends voltage and receives audio.  Some newer generations of camera can receive two channels of audio and if the camera won't, the SR can go into "Mixed Mode" that will blend the two channels together to a mono signal.  Alternatively, you can opt for the 5 pin output option on the receiver and run a cable into the XLR inputs on the back of the camera while still powering off the slot.  Lectrosonics was smart enough to create different adapter plates for different cameras multi-pin connectors as well as creating the SRBATTSLED to allow you to externally power the unit via an L or M type lithium battery for use with prosumer cameras (e.g Sony EX-1) or cameras without a slot.  They also created some great mounting accessories for cameras without a slot so you can attach the SR to a hotshoe or a handle for instance.
You can use any 2 (if you want 2 channels anyway) of the transmitters Lectrosonics offers to send to the camera.  The LMA should give you roughly 100ft from the camera and is the least expensive of their transmitters though it doesn't offer an external power solution.  The UM series offers external power options and longer range.  The SM series also offers external power options, longer range and all in a smaller package.  Depending on which product you choose in the series you can have even more range or longer battery life.
I would really love to see a version like the 411 with their famous "front end tracking" to make it a little more robust in tough RF environments.  The Lectrosonics name stands for itself though and it's still a good choice of unit.
Zaxcom 900 Series Wireless
The Zaxcom ENG RXS is a dual channel purely digital receiver via one carrier frequency. It's 1.25″ x 3.25″ x 5.25″ in dimension with a 5 pin XLR male output. To mount it on a camera requires a BEC Box or, if you're willing to take a risk, Velcro.
The TRX900 transmitter is available in AA or 123 battery versions. To start it's a mono body pack transmitter. In the end, it can become a very powerful tool with the options available. Zaxcom again impresses in leading the pack.
You can add an STA100 or STA150 (depending on where you like your connectors exiting) to make it a stereo transmitter and again, via one carrier frequency. It gives you a TA5 for two channel audio input, 12VDC input, an audio or timecode out on mini jack and a timecode input.
This transmitter has an IFB receiver built into it and a timecode reader/generator 2 track recorder. These two features alone alleviate so many worries offering redundancy which in turn, for location audio anyway, offers confidence. The recorder gives you 12 hours of stereo recording on a 2gb card (and you can use up to a 16gb card for 96 hours of record time). The files it creates are in a .zax proprietary format which allows for that much recording time. The Zaxcom software 'ZAXCONVERT' allows for conversion of the .zax files into any audio output and searchable by timecode. The IFB and recorder features can be added at time of order or later via software update.
The IFB receiver must be used with an IFB100 IFB Transmitter/Remote. It can send both audio for confidence monitoring back from the camera as well as timecode should you wish to always be jam synced or when using record run timecode. The recorder offers the perfect back up should you ever have any hits, interference, battery loss on the receiver or…accidental input level switch. In another light, it's a 2 channel recorder with timecode that transmits.
What's Coming
In the months to come, Lectrosonics will be consistently shipping their D4. Briefly, it's their first completely digital wireless with up to 4 channels of audio transmitting. The inputs and outputs are either AES or Analogue and its transmitting power is 200mw. For a better look, read Skylor's review of the D4 system.
You can also look for the Lectro Octopack, a multi-coupler for the SRa receiver.  It furthersthe SRa's abilities combining 4 together in a bag for an 8 channel unit.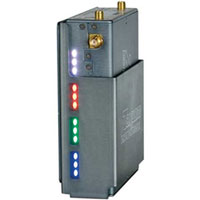 Zaxcom will release their QRX100. For one, it combines the IFB100 transmitter and RX900S receiver into one unit.  Futhermore it adds, timecode in and out, videosync and 4 channels of audio output in one box.  It comes with its own mounting bracket to properly expose the 4, 3 meter LED's, on the side to be able to view your levels without asking the camera man to lower his camera for you to peer at the screen.  It's your tri level sync, comtek transmitter and two RX900S receivers all in one box.  Check out the preliminary information on the QRX100 here via our interview with Zaxcom President, Glenn Sanders at NAB 2009.
Conclusion
It's an interesting time out there.  We see more double system pushes from audio people complaining of poor camera sound and some great recorders that allow us to do it.  Cameras like the RED allow for 4 channels of audio, thus, why do we need two systems recording when one will do both the audio and video with no sync issues.  I tend to believe that cameras don't think about audio enough to put in proper preamps, proper metering and a decent headphone jack.  Double system is still the best way to capture amazing audio.  Listen to a RED camera audio discussion here.  Are we circling around again to record on camera with more tools and facilities to do so or is double system here to stay?  We invite your comments.

How to order Digital Wireless (122K PDF)
Search the Blog
Newest Entries