Description
Please note that custom molded MYNA™ In-Ear-Monitors are a custom built product
which rely on a precise impression of the user's ear.
What others are saying:
"I never want to be without my Myna custom IEMs, so I've ordered a second pair as a spare."
-Jonathan Andrews, Production Mixer
MYNA™ M7506 IEMs
MYNA™ M7506 custom-molded in-ear monitors (IEMs), designed for production sound professionals, are engineered to mimic the sound characteristics of the popular Sony® MDR-7506 headphones. Additional MYNA™ models are in development to mimic other popular industry-standard headphones.
An industry first, MYNA™ IEMs mimic specific headphone models so that, when changing back and forth from MYNA™ IEMs to the headphone model they mimic, the sound quality is virtually the same. MYNA™ IEMs provide the acoustic isolation and versatility of hand-crafted in-ear monitors while allowing the user to keep their point of reference.
MYNA™ CM770 IEMs
Myna custom molded CM770  in-ear monitors mimic the sound of the Beyer DT770 Pro headphones. This allows users of DT770 headphones to also listen with Myna in-ear monitors while keeping the sound reference of the DT770. Users of Beyer DT770 headphones often choose them because of their warm, full-sounding, extended low frequency response and clear, high frequency transients. Audiophiles also often prefer the DT770s for these reasons.
Like other Myna models, the CM770 has five drivers in each ear, are very high-quality handcrafted earpieces, designed for professionals who work with headphones, and made in the USA.
MYNA™ IEMs are available in four styles, all of which sound identical and have polished black resin bodies.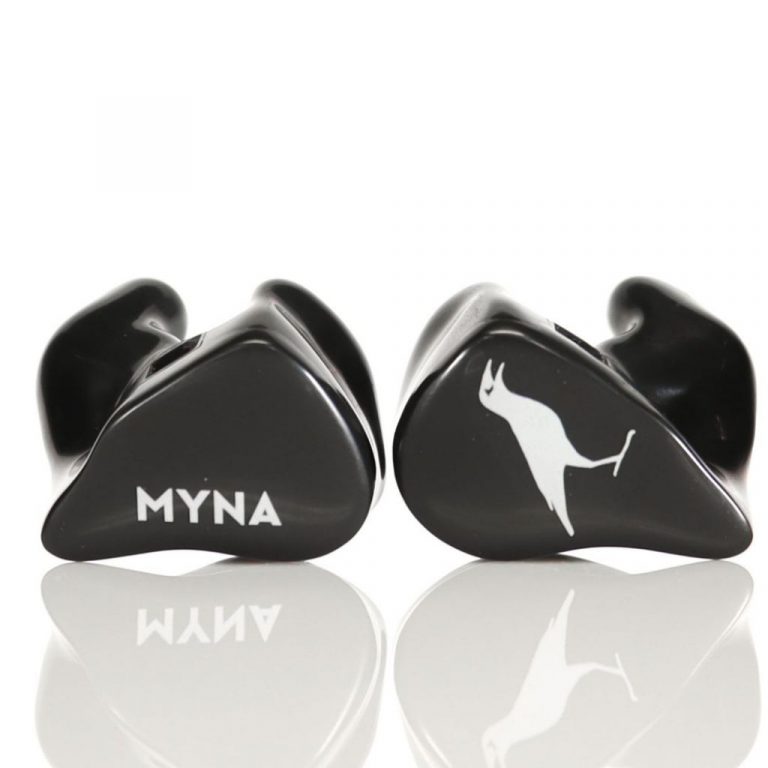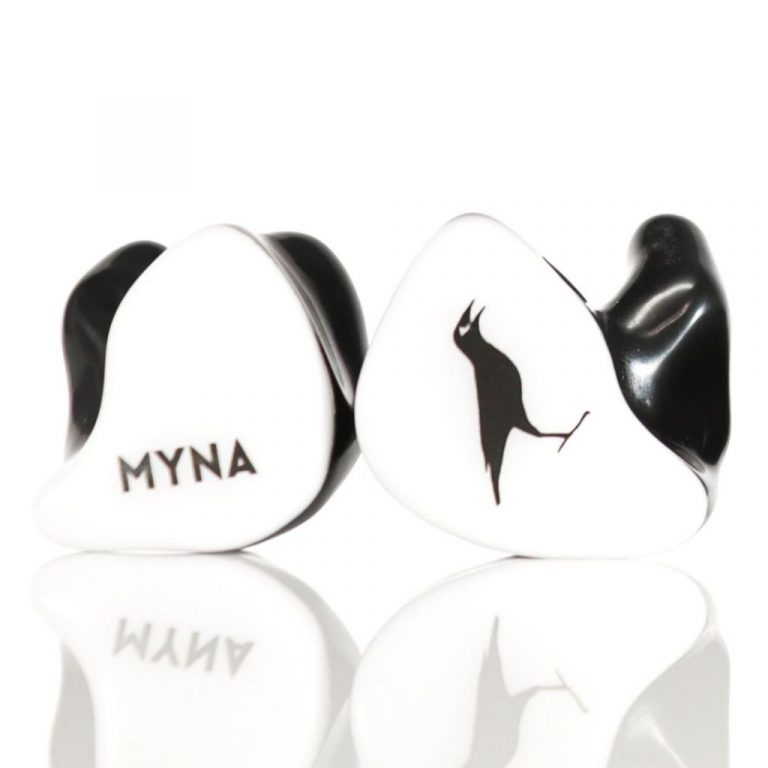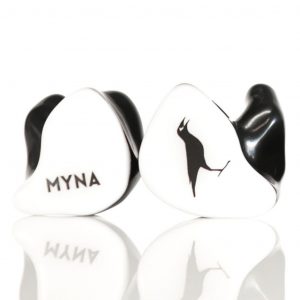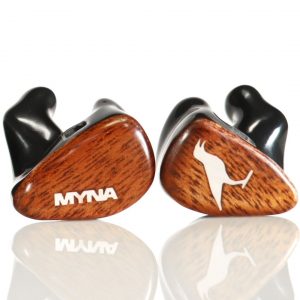 Features
Sound Wave Calibration
Industry-Leading Knowles Electronics® Drivers
Industry-Leading PlusSound® Cables
Hypoallergenic Biocompatible Materials
Designed and Handcrafted in the USA
Keep Your Reference
Before MYNA™, IEMs were primarily designed to meet the needs of stage musicians for live performances. Some models are made to emphasize specific instruments; bass players might prefer more low-end, guitar players usually prefer more midrange, and vocalists might want more "sizzle", etc. But until now, no IEMs have been made to duplicate a specific headphone monitor.
Versatile Cables & Connectors
The MYNA™ IEM development team realizes that production sound professionals have unique cable and connector needs. For example, most IEMs terminate only to an 1/8-inch plug. However, location sound pros need to be able to go back and forth between devices with 1/4-inch and 1/8-inch stereo connectors. Therefore MYNA™ cables terminate to an 1/8-inch connector that includes a 1/4-inch screw-on adapter for added versatility. In addition, knowing that production sound mixers often need cables longer than the standard 4-foot length to reach their carts, a 2-foot breakaway extension is available.
Most IEM brands use molded-on connectors that need to be replaced if damaged. Knowing the hard life that production sound equipment experiences, MYNA™ has partnered with PlusSound to pair each IEM model with industry-leading rugged Exo and X Series cables with field-serviceable connectors available on the Medium and Robust weight cable options.
Hearing Protection & Acoustic Isolation
A very important reason for using custom molded IEMs for location sound is the extreme acoustic isolation. This means IEMs can not only give you better monitoring but can help protect your hearing. MYNA™ IEMs are custom molded to fit your ears, creating a perfect seal from outside noise. Because IEMs block outside noise, they allow you to monitor at lower levels than you might with regular headphones.
"In a noisy downtown production, my custom molded Mynas are the right tool for the job. They allow me to know exactly what the mics are recording in a compromised environment."
-Steve Grider, Production Mixer
When using standard headphones in a very loud environment, it can be difficult to tell the difference between audio from the microphones and sound leaking through the headphones.
This makes it difficult to know what is actually being recorded. With MYNA™ custom molded IEMs, if you hear it, you are hearing it from the microphone. And it works the other way too. If you don't hear the airplane overhead that everyone else is concerned about, you can let the director know with confidence that it's not a problem.
IEMs are also very useful when working in windy conditions or on a moving vehicle. The wind blowing onto standard headphones can sound exactly like the dreaded sound of wind on the microphone. Custom molded IEMs don't have wind noise, so if you hear wind, you know it's being recorded.
Designed for Long-Term Wear

While it is common for stage musicians to wear their IEMs for two or three hours a day, film and video production sound crews typically wear their headphones or IEMs for 10 or more hours each day.
To accommodate location sound professionals, MYNA™ IEMs are crafted from the same type of hypoallergenic medical-grade resin as hearing aids to prevent skin irritation from long hours of constant use. Each set of MYNA™ IEMs is also hand polished for a smooth and precise fit to prevent "hot spots" from long periods of use.
"I'm very happy with my custom Myna's custom fit and robust quality, and I'm very happy with the sound."
-Kevin Santy, Boom Operator
Versatility
Another reason production sound professionals are adding IEMs to their kits is that they often find themselves in settings that are problematic for regular headphones. Recording on location often means being in nature's elements, requiring sun or rain hats that interfere with headphones. Construction hardhats are required for certain locations, and military operations might require helmets, which also make headphone use impractical. MYNA™ IEMs allow sound professionals to wear any protective headgear with ease.
How to Order Custom MYNA In-Ear-Monitors
1. Select Your Model
Visit the MYNA™ product pages to learn about our available options and select the model of your choice. MYNA™ is available exclusively through Trew Audio.
2. Place Your Order
Add your selected MYNA™ model to the cart and place your order. You will receive a confirmation email with your order number and additional details.
3. Schedule an Ear Impressions Appointment
Each pair of custom MYNA™ IEMs requires physical impressions of your ears to guarantee a precise fit. Use our map of recommended licensed audiologists to schedule an appointment for ear impressions in your area. If you have any trouble locating an audiologist near you please reach out to us and we'll be happy to connect you with one.
Impressions will cost between $50 – $100 depending on your audiologist. This cost must be paid directly to your audiologist and is not covered by MYNA™.
Share the MYNA™ Ear Impressions Guide with your audiologist to ensure that their impressions will meet our specifications.
4. Pre-Approve Your Ear Impressions
Take photos of your completed ear impressions as instructed in the MYNA™ Ear Impressions Guide.
Email the photos to [email protected] for pre-approval with your name and order number. Our technicians will reply within 2-3 business days to pre-approve your impressions for shipment.
5. Ship Your Ear Impressions
Securely pack your pre-approved ear impressions and ship them to the MYNA™ lab:
Trew Audio
Attn: MYNA IEM Lab
220 Great Circle Rd #116
Nashville, TN 37228
Include your name and order number for accurate processing. We recommend choosing a shipping method that provides a tracking number.
Ear impression shipping costs and any applicable import taxes and customs fees are not covered by MYNA™. MYNA™ is not responsible for lost or stolen ear impression shipments.
After we receive your impressions at our lab, your MYNA™ custom-molded in-ear monitors will be shipped to you within 2-4 weeks.
If you have any questions about your order status, contact us or give us a call at 833-GET-MYNA (1-833-438-6962).