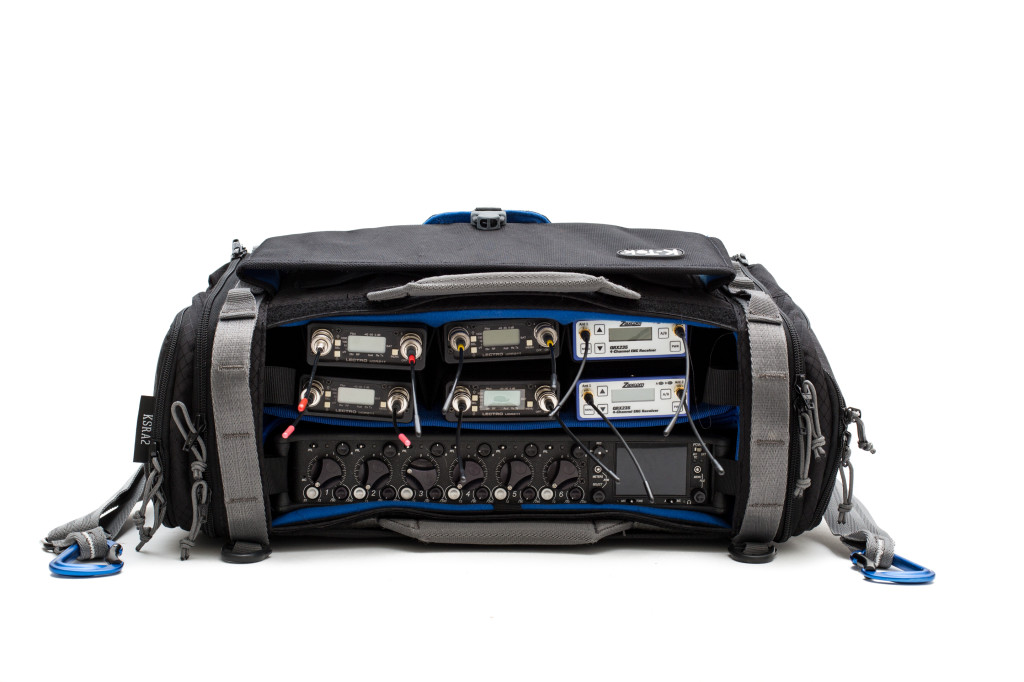 Following their success with the Stingray for the 633, K-Tek has released a new bag, the Stingray 2, for the 664. It was obvious that K-Tek spent a lot of time designing and perfecting the first Stingray, drawing inspiration from personal experiences on set as well as advice and critique from YOU, the actual end users. The folks at K-tek have delivered again, with the Stingray 2 — designed for larger recorders like the Sound Devices 664.
The K-Tek KSRA2 Stingray bag features a rigid internal frame that allows the bag to stand up on its own. The rigid construction protects the contents of the bag, as well. The very front of The Stingray audio bag features a rigid exterior frame that allows the sound mixer to mount wireless receiver pouches or a battery distribution box on the outside of the bag. The KSRA1 Stingray audio bag is designed specifically around the Sound Devices 633 and Zaxcom MAXX, and the KSRA2 Stingray audio bag is designed around the Sound Devices 664. The bag opens up completely on both sides to allow easy access to the side panels of both machines, as well as opening up on the bottom to allow access to the rear of the machines. It also features two retractable carrying handles, a removable clear cover for the top of the bag, and a shoulder strap.
The part of the bag that is against the body of the sound mixer is actually concave and has a mesh screen to help keep a small gap between the body and the bag. This makes for a more comfortable fit when wearing the bag.
The side pouches feature loops on the inside for storage of extra receiver antennae, batteries, small multi-tools (greenies is their pet name) and other small things. There is a special elastic loop on the inside of the bag designed to hold and NP-1 battery with battery cup for a battery distribution system.
The sides open up completely, but there are a total of six zippers on each side flap. This allows the sound mixer to close up the sides for protection and at the same time run cables in through the sides. Since the bottom completely opens up, cables can be run from wireless receivers or a battery distribution system in through the bottom of the bag.
Search the Blog
Newest Entries