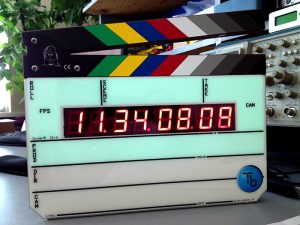 In the late 1960's, the Society of Motion Picture and Television Engineers (SMPTE) adopted longitudinal timecode (LTC) as a method of making video and audio match. Timecode is the industry standard frame numbering system that assigns a specific number to each frame of video in the format of hours, minutes, seconds, and frames, while recording the same number on a corresponding audio track. And though there is a profusion of different frame rates, not that much has changed – both sound and picture people need a highly accurate clock to generate a starting point for all parties to reference. But what has changed is the way in which we manage timecode.
Up to this point, a master clock (in this instance, any device that generates timecode) outputs said code via cable to another device, the timecode is "jammed" into the second device and the clocks are in sync. Video and sound can be matched based on this standard frame of reference. In a post production world with dual system recordings (audio on one, video on the other) it's vital.
Of course it's not just as simple as synchronizing your watches. That is, imagine if you will, someone with a $10 watch and another with a Rolex – they set their clocks together at the same time and set off on their own adventures. When they meet again, it's doubtful they'll be matched to the same second. In production systems, syncboxes are the Rolex of timecode – the master device sends timecode into the syncbox and that highly accurate unit is thrown on to a camera, which is notoriously bad at keeping accurate code. Some cameras (moderately priced video capable DSLRs) don't even record timecode.
But every problem has a solution – eventually. Wireless timecode is here – and it provides a platform for innovative timecode solutions. Naturally, manufacturers are jumping in with both feet. So let's have a look at some of the major players in the time code space, and what they're doing to differentiate themselves from their competition.
Ambient
One of the mainstays in the field, Ambient, just upped their game with the release of their new syncbox – the ACL204. A new sleek menu structure makes it far simpler to use than the old dip switches. But the best part is the new Ambient Clockit Network. This allows one syncbox to send a signal over Wi-Fi out to all the other new generation of Ambient syncboxes (ACNTL or ACL204) and accept that code. The master device has a check back function which tells you all the successes or failures you've had sending the jam signal out. The units themselves don't yet have the constant jam function, but each unit has its own highly accurate generator built in. The software for constant jam is coming, as is the promise of a sweet app to allow smart phones and tablets to view the sent timecode. See it in action!
Denecke/Timecode Buddy
Denecke has been the industry standard in timecode slates for three decades. This year, they did one thing…but it's massive! Denecke, has partnered up with the fastest growing timecode company, Timecode Systems Ltd. (makers of the Timecode Buddy: system). Apple iDevices are ubiquitous among set crew, and we at Trew Audio were getting inundated with requests for timecode on a smartphone or tablet. Timecode Buddy: system solved the issue. In 2010, Paul Scurrell, invented a product that generates a Wi-Fi network all for the sole purpose of timecode. The Timecode Buddy: Wi-Fi master, creates a Wi-Fi network anyone can connect to and it sends timecode around. Your phone becomes a timecode display and your iPad a slate. We told you about the movie slate app and the Timecode Buddy works seemlessly into the process. All the data is shared among producers, directors, script supervisors, continuity, sound, etc and a pdf is emailed direct from the app to the post house, and voila – perfect timecode, perfect notes – from every source. The only thing not connected is the actual slate – until now. Coming late 2013, Denecke will put the Timecode Buddy technology into their slate. It's a match made in production heaven.
ZAXCOM
For a long time, Glenn Sanders, president of Zaxcom spoke of Zaxnet, and to many, it made no sense. It was a dream in a far off horizon. Recently, it all clicked, and for me, it was the advent of the ERXTCD. Let's start at the beginning though. Zaxnet sends 2.4Ghz command signals for the remote control of transmitters, IFB audio and timecode. To save time, we'll focus on timecode. Zaxnet is a language communicating to Zaxcom devices what to do from the comfort of your sound cart or audio bag. For timecode, the ERXTCD – well, it's an IFB receiver – great, it receives audio from its source but it goes one step further and incorporates timecode. Timecode is sent from the source to the ERXTCD at the same time as the audio (its digital signal embeds both). In the menu of the IFB receiver, you choose what you want it to output – audio only, timecode only or both. You can give an IFB to the director set for audio and give another unit to the camera operator…as a sync box that outputs guide track audio as well. Why is that cool? You have one box that can serve multiple purposes – oh, and in case you were worried about the range, I'll tell you the unit generates timecode from its last receive point when it jams.
…and then there was one.
All of this is to give a glimpse of timecode and the new tools for managing it. But,where's it heading? In the new digital age – do we even need timecode? Is double system here to stay? At one time, the fear was digital cameras making sound recorders redundant – if anything, it went the other way, especially with the DSLR market. Changing technology raises a host of questions: Why have a double system – when you could have one? (e.g Sound Devices PIX260) Does the audio recorder also record video or is it the video device that records audio? Who hits the record button and gets paid for it? Is timecode still necessary if everything is synced up front? What do you think?
One thing is sure – as the technology changes, Trew Audio is here to help you make the most of it!
Search the Blog
Newest Entries