Condenser microphone powering is a daily issue dealt with by mixers across the globe. For many of you it is a forgotten detail. You have a Sound Devices mixer and a brand new Schoeps CMIT5U. You leave your channel one phantom on almost continually because that's your boom mic input. On the other end of the spectrum are the many newcomers to location audio. These folks are excited to get their package going, but don't have the budget for the newest greatest gear. They commonly call Trew, intrigued by our consignment mixers and mics. They see a used Schoeps and they are ready to claim it as their own. But wait… what's T-power? Well my usual short answer is "A less common way to power a mic than 48-volt phantom power." Then I ask them what mixer they are using, and we begin the conversations about adapters and which mixers provide T-power. But now I'd like to give the more informed answer.
Let us take a trip back to when Nagras ruled the location audio landscape and Sennheiser, Neumann, and Schoeps mics bragged of German ingenuity. Many rumors circle about the origins of T-power, but almost all of them reference Kudelski Nagras.
Early Nagra recorders had only dynamic microphone preamps. In order to provide the gain of a condenser microphone, external power supplies were required. Sennheiser needed to create a microphone powering solution that would also run on the auxiliary power outputs provided by the Nagra. The earliest power taps on the Nagra ran about 10-volts, Sennheiser's goal was to create a condenser microphone powering scheme that would provide clean audio, and run efficiently on (at the time) a very low voltage. Power efficiency was very important. A 48-volt phantom system was not very friendly because the DC-to-DC converters of the age required higher rates of current, thus draining the very important battery life of a remote location recorder. Sennheiser developed the KAT inline preamp for Nagra and T-power.
Sennheiser KAT 15-2 T-Power Preamp for Nagra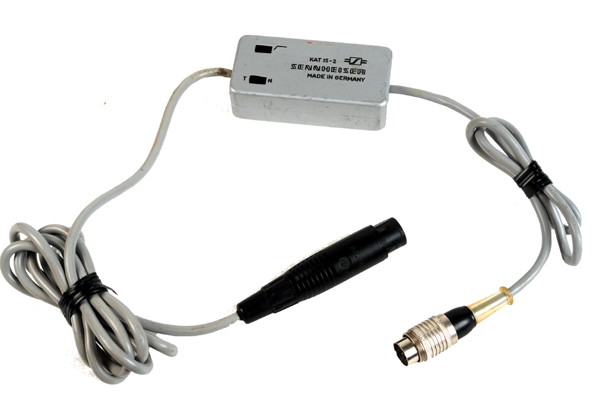 The T in T power is Tonaderspeisung. Let's break this German compound word into its parts…
Ton- Tone or sound
Ader- vein, artery
Speisung- Supply
Simply stated T- power is sound line supply power.
The engineers accomplish this feat sending the voltage up the same lines the audio came down. During the last 50+ years, the polarity of the voltage has switched pins as did the Nagra. Pins 2 and 3 carry the voltages through a 180 Ohm resister, and the audio is carried back down the same lines. The ground is not involved in the powering circuit.
So now that you know why T-power exists, let me tell you why it is still relevant. Sennheiser and Schoeps still manufacture T-power microphones. In addition, products are still readily available on the used market. For instance, we occasionally sell a Shure FP32 on consignment. The FP32 does not have full 48-volt phantom power, but it does provide T-power. So you can use the always-reliable Sennheiser MKH416 without needing phantom 48. Of course, it must be a T-power version of the 416. And I dare you to tell the difference in sound.
Search the Blog
Newest Entries